Stinging Nettle, despite its intimidating name, actually has many health benefits that make using it worth considering. While it can irritate your skin on contact, it's also packed with healing properties. So, don't be afraid to give it a try!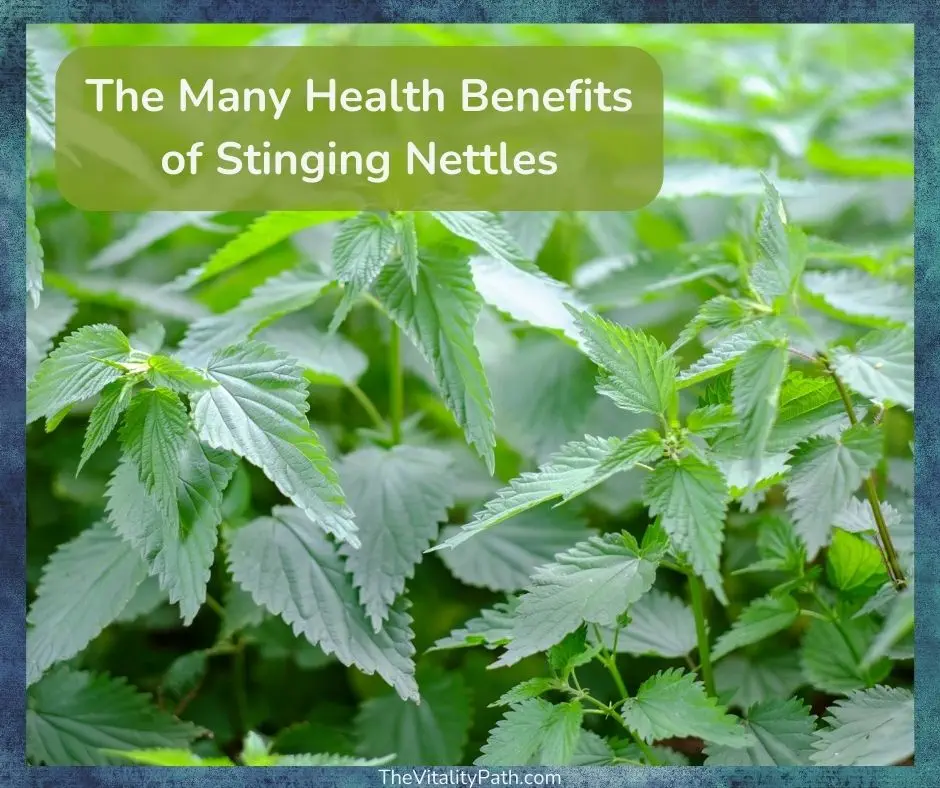 One of the main benefits of Stinging Nettles (Urtica dioica) is its ability to help with seasonal allergies. It's a strong anti-inflammatory herb that can support your body during allergy season. Many people, including me, have found that taking nettle leaf helps to reduce allergy symptoms, such as a runny nose, itchy eyes, and sneezing. Nettle is known to be an ally for addressing hay fever, so it's definitely worth a shot.
Ways to Prepare Stinging Nettles for Use
To get the benefits of Nettles for seasonal allergies, there are several ways to prepare it. You can make a strong nettle tea by steeping the leaves in hot water, or you can take freeze dried nettle capsules. Both methods have been found to be effective in providing allergy support.
My favorite way, however, is to use locally growing nettle plants to make an extract.
After properly expressing my gratitude for this bounty, I pull up the entire plant, roots and all (you may want to wear gloves for this), and wash all traces of soil from the roots before bringing them into my kitchen. I coarsely chop up the leaves, stems, and roots with my favorite kitchen knife, then loosely pack all this plant material into a mason-type jar.
Next, I add enough good quality vodka to comfortably cover the nettles. Then I shake it up really well, label the jar (including the date), and put it into my dark pantry. Once a week or so for the next couple months, shake it all up again. Then strain into a smaller tight-closing jar, and label as Nettle Alcohol Extract. Plus the date, of course.
Now we're ready to bottle it.
Pour this some of this alcohol extract into a glass dropper bottle to the halfway mark. Then add pure, filtered water to the bottle's shoulder. Replace the dropper lid, and label it Nettle Extract.
Considering the alcohol level of the vodka, using a 1:1 mix of vodka and water brings your concoction to about 20% alcohol. This is not perfect math, but it's typically close enough for most folks.
In addition to helping with allergies, nettle can also be beneficial for inflammation in the body. It has been shown to decrease inflammatory markers like C-reactive protein. Chronic inflammation is a common underlying cause of many diseases, so it's important to address it holistically. Nettle, as an anti-inflammatory herb, can be a key part of a holistic approach to managing inflammation.
This brings us to my second favorite way to use Nettle:
I have it growing in a pot close to my back door. In a pot, to keep it from spreading all over the yard, and to make it easier to water it when necessary. If I'm experiencing any arthritic stiffness or soreness in my hands, I gently and lightly "caress" the nettle plant with the achy part of my hand.
Now, if you aren't accustomed to touching nettle (yet), it may sting a bit, so don't overdo it. Evidently, the chemical in this plant that stings you is the very same chemical that's found in fire ant venom. I do find that these plants are much friendlier than fire ants, though. 🙂
Even More Benefits of Stinging Nettles…
Another benefit of stinging nettle is its potential to support your kidney health. It has diuretic properties, which means it can help increase urine production and promote the elimination of waste and toxins from your body. This can be particularly helpful if you have a tendency to develop kidney stones or urinary tract infections.
On top of all this, Stinging Nettle is also highly nutritious, and has been used as food for centuries (no worries, cooking removes the sting). According to the National Institutes of Health, Stinging Nettle is high in amino acids, protein, flavonoids, and bone-building minerals like iron, calcium, magnesium, potassium, and zinc.
Nettle contains vitamins and minerals that can help keep your bones strong!
Plus, it supports heart health, blood circulation, blood sugar control, detoxification…. makes you wonder why more people aren't utilizing all this goodness.
Overall, Stinging Nettle is a versatile herb that offers a range of health benefits. Whether you're looking for relief from seasonal allergies, inflammation, or support for kidney health, nettles can be a valuable addition to your wellness routine.
So don't let its stinging reputation scare you away – give it a try and see which benefits of Stinging Nettles might help you!