In our fast-paced world, stress has become an all-too-common feature, wreaking havoc on our physical and emotional well-being. Fortunately, there's a powerful antidote at our disposal: mindfulness and meditation. In this article, we'll explore how these transformative practices can help you regain control over your thoughts and emotions, managing stress and its aging effects.
Tips for Practicing Mindfulness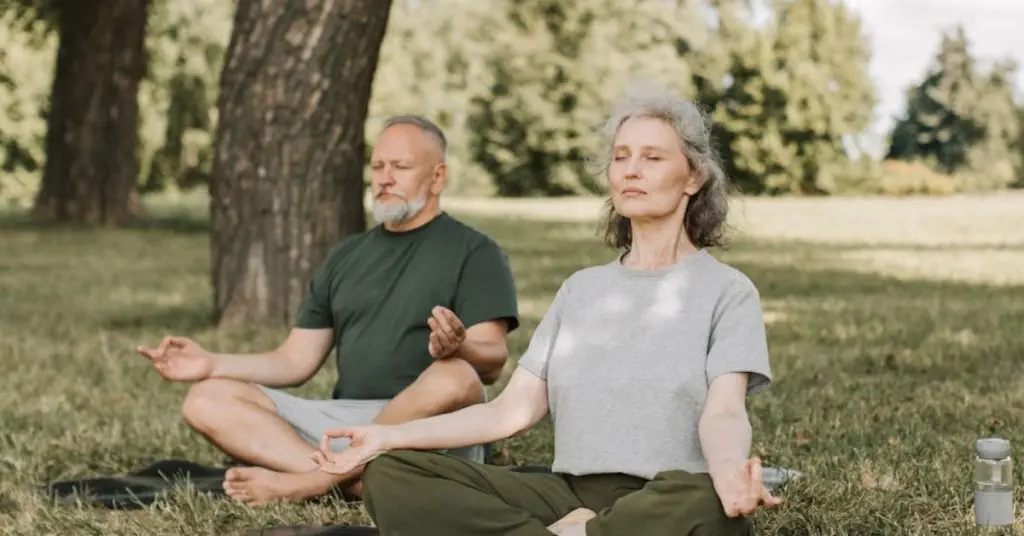 Start Small
If you're new to mindfulness, the prospect of quieting your mind might seem daunting. However, the key is to start small. Begin with just a few minutes of meditation each day. Find a comfortable, quiet space where you won't be disturbed. As you become more comfortable with the practice, gradually increase the duration of your sessions. Remember, mindfulness is a journey, and progress is made one mindful breath at a time.
Focus on Your Breath
One of the fundamental aspects of mindfulness is focusing on your breath. Find a comfortable seated or lying position, close your eyes, and turn your attention inward. Inhale and exhale slowly and deliberately, paying close attention to the sensation of each breath. Notice how the air feels as it enters your nostrils, fills your lungs, and then leaves your body. When your mind inevitably starts to wander, gently guide your attention back to your breath. This simple act of concentration can work wonders for calming a racing mind.
Mindful Eating
Mindfulness isn't limited to meditation sessions; it can be woven into your daily life. One excellent way to do this is by practicing mindful eating. During meals, resist the urge to rush through your food. Instead, savor each bite, paying close attention to the flavors, textures, and aromas. Engage all your senses in the experience of eating. This not only enhances your enjoyment of meals but also helps prevent stress-related overeating, as you become more attuned to your body's hunger and fullness cues.
Daily Check-Ins
In the hustle and bustle of life, it's easy to lose touch with our inner selves. Make it a habit to set aside a few minutes each day for a personal check-in. Find a quiet spot where you can sit comfortably and reflect on your emotions and thoughts without judgment. Acknowledge whatever you're feeling, whether it's stress, happiness, sadness, or calmness. This daily practice fosters self-awareness and allows you to address any sources of stress or discomfort proactively.
Meet Linda: A Mindfulness Success Story
Linda is a dedicated professional who, like many of us, had her fair share of stress-related aging signs. Anxiety and sleep problems were taking a toll on her well-being. Feeling the need for change, she decided to begin her own mindfulness journey.
Linda started with just 10 minutes of mindfulness practice each day. In those precious moments of stillness, she learned to calm her racing thoughts and find peace amid life's chaos. Within a few weeks, the transformation was undeniable. Linda noticed a significant reduction in her anxiety levels and, most notably, improved sleep quality.
Mindfulness had become an integral part of her daily stress management routine. It was no longer just a practice; it was a lifeline—a source of strength and resilience in the face of life's challenges. By simply dedicating a few minutes to mindfulness each day, Linda had unlocked the power to take control of her emotions and find inner peace… and to managing stress in the bargain.
Embrace Mindfulness Today
You, too can put these mindfulness suggestions into practice and make your own life better, just like Linda did. Whether you choose to start small, focus on your breath, practice mindful eating, or engage in daily check-ins, each step you take on your mindfulness journey brings you closer to a healthier, happier you.
So, why wait? Begin your mindfulness journey today and discover its profound benefits of managing stress for yourself.